Flow 5.0 ή αλλιώς ο διάδρομος με ανεμιστηράκια από PC που αντιλαμβάνεται την κίνηση και τον ήχο του επισκέπτη, παράγοντας τεχνητό "άνεμο"! Σύμφωνα με τον δημιουργό Roosegaarde Studio:
Flow 5.0 is an interactive sculpture made out of hundreds of ventilators which are reacting to your sound and motion. By walking and interacting an illusive landscape of transparencies and artificial winds is created. Moving through Flow 5.0 the visitor becomes conscious of himself as a body, in a dynamic relation with space and technology.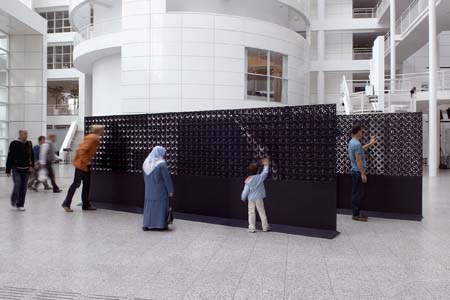 Στο ίδιο concept, το Aperture, είναι ένας ακόμη τεχνητός διάδρομος, που όμως αποτελείται από εκατοντάδες μηχανικές ίριδες που ανοίγουν ανάλογα με το όσο πιο σκούρο είναι αυτό που βλέπουν, παράγοντας ένα half-tone effect!